London to test GPS tagging on offenders of knife-related crime
Comments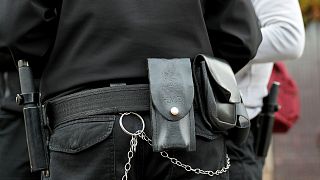 London is set to begin a test of GPS tagging on offenders from knife-related offences in a bid to tackle the rise in violent crime across the UK capital, the city's mayor, Sadiq Khan, announced on Monday.
Starting next week, up to 100 offenders who have served jailtime for knife-related offences will take part in the one-year scheme.
The 'more likely to reoffend' will have their GPS-tracked locations automatically checked against the locations of reported crimes.
Any location matches will be sent onto police.
Carina Heckroodt, the head of London Extremism, Gangs and Other Organised Crime unit, said she hoped the tagging would serve as a physical reminder, and, therefore, a deterrent against reoffending.
"This new pilot is a significant step forward in harnessing new technology to strengthen the supervision of offenders, particularly those who are at risk of being drawn in to a gang environment and other criminal networks," she said.
"These tags will provide a constant physical reminder of an offender's licence conditions, encouraging them to comply with their restrictions and deterring them from further offending and protect victims."
The initiative has been launched after statistics released last year showed that knife-related crime in London had reached its highest level in 2018, with almost 15,000 cases reported.
This weekend alone saw the fatal stabbing of a man in East Dulwich, southeast London, and a 23-year-old critically injured in a separate stabbing incident in Neasden, northwest London.
"Violent crime in London is unacceptably high," Mayor of London Sadiq Khan said in a statement on Monday morning.
"This innovative pilot will build on the good work of the City Hall funded Violent Crime Taskforce by helping offenders integrate back into society and reducing the risk of reoffending, as well as giving the police the information they need to thoroughly investigate reported crimes."