Yellow vest protester blames police after suffering serious eye injury
Comments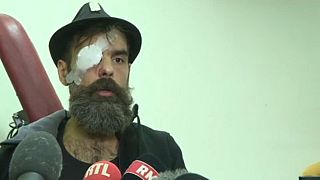 There is mounting concern for the French government after a prominent yellow vest protester suffered a serious eye injury during a demonstration on Saturday.
Jerome Rodrigues, a high-profile protester and a leading light in the yellow vest protests, suffered a serious eye injury, which, according to his lawyer, was caused by a weapon that fires rubber bullets, contradicting initial offial reports that the injury was cased by fragments from a stun grenade.
Rodrigues was injured while he was filming and transmitting live footage on his Facebook page as the yellow vest protesters arrived at Bastille square in the centre of Paris on Saturday afternoon.
"I received two attacks by the police. One stun grenade, which they threw at my feet and made me dizzy, then three seconds later from a rubber bullet that hit me in the eye. I believe that the police officer who shot me did it on purpose and aimed well because he hit me in the eye. In my opinion, it was on purpose. I am calling for calm, I am not asking for revenge, I want everyone to remain calm. I don't want to become a symbol," he said.
The official government position is that, up until now, there is no clear evidence that Rodrigues was hit by a rubber bullet, citing traffic security cameras.
The yellow vest protests broke out in November over planned increases in fuel duty but subsequently broadened into a revolt over high taxes and the cost of living, and a political class seen as privileged and remote from ordinary French people.