Italy: stop messing in other countries' affairs. France: mind your own business
Comments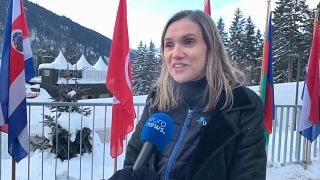 After top Italian politicians launched a string of attacks on France, including criticising it for interfering in the affairs of African nations, a French minister has responded with a diplomatic request for Rome to mind its own business.
Agnès Pannier-Runacher, who serves as secretary of state in the French economics ministry, told Sasha Vakulina in Davos, that Italy's leaders would do better to focus on strengthening Europe's competitivity.
Italy's deputy prime minister, Luigi di Maio, earlier this week accused Paris of profiting from Africa by refusing to give up its colonial position.
Then interior minister Matteo Salvini followed up the attack by urging French voters not to back president Emmanuel Macron in upcoming European elections.
"We consider that we should not interfere in the internal affairs of other European countries," Pannier-Runacher, said. "What is important for us today is to focus on building a more integrated, stronger and more competitive Europe."