Plovdiv Bulgaria inaugurated as 2019 European culture capital
Comments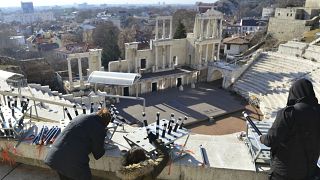 -
Bulgaria's oldest city Plovdiv has been officially inaugurated as the European Capital of Culture for 2019.
Plovdiv claims to be the oldest continually inhabited European city, with more than 6,000 years of history.
Plovdiv's architectural landmarks dating back to Thracian, Greek, Roman, Byzantine and Ottoman times help prove the ancient age of this Balkan city.
Some 50,000 people gathered at the central square Saturday to watch the opening show.
Squeezed between the Balkan and the Rodopi Mountains, Bulgaria's second-largest city - behind the capital of Sofia - has survived for thousands of years on the crossroads between Western Europe and the Middle East.
The city on both sides of the Maritsa River is also known for its ethnic diversity.
Many of its 340,000 inhabitants belong to the country's Turkish, Roma, Armenian, Greek and Jewish minorities, all of which have quite a strong influence on the city's vibrant cultural life.
Some 350 cultural events are scheduled in Plovdiv this year, including an exhibition featuring fragments of the Berlin Wall to mark 30 years since its fall.
Fun facts about Plovdiv
The city has historically developed on seven syenite hills, some of which are 250 metres high. Because of these, Plovdiv is often referred to in Bulgaria as "The City of the Seven Hills.
Called Pulpudeva in Thracian times, it was renamed Philippopolis in 341 BC after its conquest by Philip II of Macedonia.
From AD 46 it was called Trimontium and was the capital of the Roman province of Thrace.
In the old Trimontium quarter of the city, parts of the Roman walls remain. The medieval ruins of Tsar Ivan Asen II's fortress and Bachkovo monastery are nearby.
Plovdiv repeatedly changed hands during the Middle Ages until 1364, when it was taken by the Turks, who called it Philibé.
With the establishment of Bulgaria in 681, the city became an important border fortress of the Byzantine Empire.
After the Russo-Turkish War (1877–78), it became capital of Turkish Eastern Rumelia, which united with Bulgaria in 1885. It officially assumed its present name after World War I.
Plovdiv became the birthplace of Bulgaria's movement for democratic reform, which by 1989 had garnered enough support to enter government.
The city acts a junction on the Belgrade–Sofia–Istanbul rail line. Plovdiv is the chief market of a fertile region that produces tobacco, rice, vegetables, and fruit.