Brexit: Conservative MP says UK would 'cash in' if no-deal is reached with EU
Comments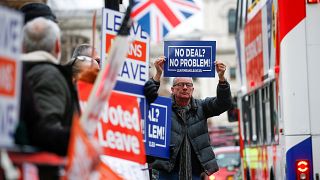 British MPs debate Prime Minister Theresa May's proposed Withdrawal Agreement for the third day in a row on Friday as they gear up to deliver their verdict next week.
Sajid Javid, Home Secretary
Javid began by saying the deal on the table is the best option to ensure an orderly exit from the EU.
He added that next week the Commons "will be asked to make one of the most important parliamentary decisions".
He says this choice "will determine the future of the United Kingdom". He says that the deal on offer is the best way of "ensuring an orderly exit from the European Union".
Javid also said there is an "unbreakable bond" between the UK and the Republic of Ireland.
Sir Bernard Jenkin MP
Conservative Sir Bernard Jenkin says that the "Scottish Parliament is going to have more power as a result of us leaving the European Union".
He says that the Commons decided to give the decision to the people, and also voted for the triggering of Article 50.
Jenkin asserted that Brexit is not to blame for the growing extremism in the EU. On the contrary, he said the UK's two-party democracy has proved to be the most durable to extremism.
"The EU is a profoundly un-democratic institution, whose biggest project - the Euro - has inflicted far worse disasters on businesses and families in many countries, than even the direst treasure forecasts for the UK," says Jenkin
He added that instead of crashing out, the UK would be "cashing in" if they leave the EU without a deal.
Jenkin addressed what he termed the "ludicrous" concerns of the chamber about growing queues at the English Channel border.
Jenkin quoted at length the Chairman of the ports of Boulogne-Calais, Jean-Marc Puissesseau, who, according to Jenkin, made assurances there will be no queue at Dover or Calais, and that they have been preparing for a no-deal for a year and will not stop trucks or people anymore than they already do.
Jenkin also attributed to Puissesseau the news that any new special area for checks will be located somewhere else and will not effect the traffic in Dover.