Endangered falcons race to make a comeback in the Gulf
Comments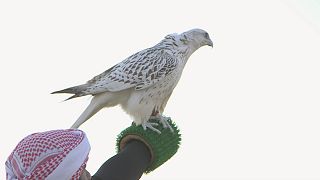 The Abu Dhabi Falcon Hospital is the largest institute for falcon medicine worldwide.
The centre, which was established nearly 20 years ago, employs around 120 staff members who treat nearly twelve thousand falcons a year.
Eight-year-old saker falcon Falah has been brought to the facility by her trainer, Jassem Al Hamadi, for a procedure to replace a feather that she lost in a scuffle with another bird.
Al Hamadi pays for the best possible veterinary care for his prized bird of prey because he considers the animal to be a 'family member'.
"At the end of the day the falcon is a part of you, it's considered like one of your children," he says. "So, the most important thing is that their treatment is the right one, from the right doctor."
Dr. Margit Muller is a German veterinarian who has been treating falcons at the hospital in Abu Dhabi for around 17 years.
As executive director of the institute, she believes that the centre has significantly improved the well-being of falcons in the region.
"While the old lifespan was between 12 to 15 years, because we are conducting all these routine examinations, now we have falcons that are already 18, 19 & 20 years old," she says.
Falcons are reputed predators in the wild, and the pointed-wing peregrine falcon – as the world's fastest bird – has been known to dive at speeds of more than 300 kilometres an hour to catch its prey.
Urbanisation and the risk of electrocution from power lines, however, is threatening the existence of these creatures.
The increased use of herbicides and pesticides to cull the number of pigeons and small rabbits, which falcons feed on, is also contributing to their starvation.
In addition, there are a number of cases in which human diseases are being transmitted to falcons and are causing them to live shorter lives.
The large migratory saker falcon, distinctive for its brown underbelly and contrasting grey flight feathers, is held in high regard in the UAE.
Over the past 15 years, however, the species has been classified as endangered due to rapidly decreasing numbers in its central Asian breeding grounds.
According to the International Union for Conservation of Nature (IUCN), environmental factors such as electrocution from power lines and habitat degradation are to blame.
Going some way to increasing saker falcon numbers in the UAE, are breeding programmes and the competitive racing of the birds at dedicated falconry clubs.
Many falcons originally captured in the wild are also being re-released to encourage the population of sakers to grow naturally.
Khalifa Al Kendi has trained falcons for nearly four decades.
He exercises his cast of 100 falcons at Dubai's sandy clearings at dawn each day during the cooler months from March to September.
Despite each bird having cost Al Kendi between $1,000 and $100,000, the 49-year-old Emirati says that seeing his team soar to success outweighs the price.
"It's the happiness we get from winning," he says, "Once I feel I won, I'm happy. I forget all the work I've done the whole year and forgot all that I spent."
With Al Kendi's falcons taking part in around six races each year, Khalifa says he has taken to using drones and remote-control planes to give his team a technologically advanced workout and, hopefully, the competitive edge.