A 'smart bra' and a different kind of water machine: cool and curious tech devices from CES
Comments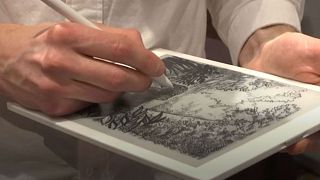 Here are some of the cool gadgets that Euronews has spotted at this year's consumer electronics show in Las Vegas. CES draws together over 4,500 companies and 180,000 attendees from around the world for a celebration of technology and innovation.
AI pet food bowl
A pet food bowl that uses artificial intelligence to make sure the right furry beast gets the treats is one of the many cool and curious creations being unveiled at CES in Las Vegas this week.
The Mookkie, from Italian firm Volta AI, won a CES Innovation Award for its use of facial recognition technology, used in a bowl able to spot which cat or dog is approaching to then open or close the food hatch accordingly.
The firm is aiming the product at anyone with two or more pets at home who compete for food. Its goal is to make sure your fat cat doesn't get any fatter.
A new kind of water machine
A water machine that extracts water from the air in a car also made its debut. The machine, which can be directly integrated into a car, was created to get water on the go. The machine creates the water from the humidity in the natural air, said Michael Rutman, head of sales and marketing at Watergen. And the water even comes purified.
Retro vibes
Retro gaming is a trend that was embraced by many at CES this year, with dozens of companies showing off retro-inspired gadgets and toys. One buzzing stand belonged to My Arcade, who launched a new series of mini handheld arcade games, including worldwide favourite Pac-Man.
They also presented the Retro Champ Console, a Switch-style gaming system that takes original games cartridges, and can also be plugged into the TV.
Several 40-something attendees, including the correspondent writing this, looked to have been transported back to their misspent youths for a few minutes when they got their hands on one of these machines.
Body shaking, body moving
Healthy living tech is always a winner at CES. On the afternoon of the first day, there were rows of people relaxing inside plush full-body massage seats, while nearby the pumping soundtrack of the Dr Fuji stand was leaving the crowds shaken, rather than stirred.
The exercise machine firm was showing off the Cyber Body Slimmer, a vibrating platform that shakes your legs and hips left to right at high speed, training the body's core muscles. They say it can burn off 600 calories in 10 minutes, although it's also very easy to eat 600 calories in 10 minutes here in Las Vegas.
Another board offering a more relaxed way of moving around was presented by Walnutt Technologies. Its electric skateboard, the Spektra, can take you up to 15km at nearly 20km/h. You just lean forward to go and lean back to stop, something which comes remarkably easy.
The Segway Drift stabilised roller skates were less easy to get the hang of, at least in my experience, but after a few minutes, you can roll around without walking.
Other cool, health-related apps
An Israeli company also introduced a device that analyses breath to track whether a person is burning calories or not.
You can also now brush your teeth in ten seconds thanks to an electronic toothbrush that has the capacity to properly clean a mouth in that small amount of time.
Vibrating laundry
While the OLED screens had many people mesmerised on the LG stand, there was also a huddle around the LG Styler — a small wardrobe that rapidly vibrates your clothes left to right on the hanger while steaming them.
It has a hint of Victorian-era innovation about it and is meant to keep your most precious clothes in odour-free and wrinkle-free condition at all times.
The 'family' version can take six items of clothing and has a razor-sharp trouser press behind the door. To add extra tech there's a "smart mirror" screen on the front of the wardrobe for you to virtually try on different clothes.
'Smart Bra' gives bra measurements for the perfect fit
A bra that gives out measurements and advises on the perfect fit for a woman? Yes, it's possible! Introducing Soma Innofit bra, which has four measuring wires and a Bluetooth app connected to the motherboard in the back of the garment that allows it to give women their correct bra size.
Followed by your suitcase
Finally, we have to mention the suitcase that follows you around. The Ovis, from Chinese-American firm Forward X, which is covered in cameras that pick you out in the crowd and allow the case to follow you around the airport.
The suitcase rings an alarm on the wristband provided if it goes out of reach, and it has a smart robotic tech on board in order to avoid obstacles and other people. Add to this GPS tracking and a removable battery, something some airlines require.
So far it has been seen chasing people around the CES show floor quite effectively, but the real test would be to see if it can keep up when you're dashing for a flight connection at Frankfurt on a Friday night.
A paper tablet that digitises handwritten notes
A paper tablet that digitises handwritten notes in seconds was also introduced. The tablet lets the user take notes, read, and review documents and replicates the "feel" of writing with paper and ink.
And the company that made it even says it works with messy handwriting!