Manafort says he didn't lie to federal investigators
Comments
By Tom Winter and Rich Schapiro with NBC News Politics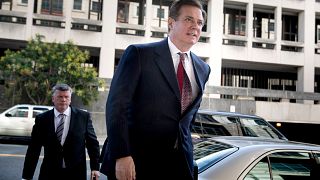 -
Copyright

Brendan Smialowski AFP - Getty Images file
Pushing back against special counsel Robert Mueller's office, lawyers for President Donald Trump's former campaign chairman Paul Manafort lawyers said Tuesday that Manafort never lied to federal investigators.
Manafort "provided complete and truthful information to the best of his ability" over the course of 12 meetings with federal prosecutors and FBI agents, according to a court filing by Manafort's legal team.
Manafort, after being convicted of bank and tax fraud charges, had agreed last September to cooperate with Robert Mueller's office.
But Manafort broke the cooperation agreement by telling multiple lies to investigators on a host of topics, including his contacts with Trump administration officials, according to the special counsel.
In the court papers filed Tuesday, Manafort's lawyers said "he attempted to live up to the requirements of his cooperation agreement and provided meaningful cooperation relating to several key areas under current government investigation."
The lawyers also argued that Manafort's state of mind was impacted by his time in solitary confinement and he wasn't able to prepare for his meetings with federal investigators.
"While his physical safety is of primary concern, it is important to note that the conditions of Mr. Manafort's confinement have taken a toll on his physical and mental health," the court filing says.
Manafort has severe gout and is suffering from depression and anxiety due to his little contact with his family, the court papers say.