Five talking points from the Serie A weekend
Comments
By Reuters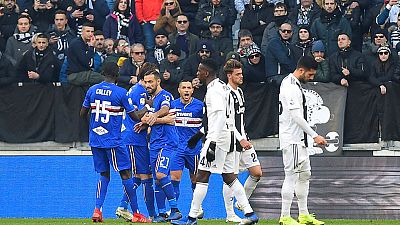 -
MILAN (Reuters) – Juventus beat Sampdoria 2-1 to reach the halfway mark in Serie A with 53 out of a possible 57 points and a nine-point lead over Napoli who beat Bologna 3-2.
Here are five talking points from a weekend which saw more controversy over the use of the VAR system:
VARFAILS TO HALTREFEREEINGCONTROVERSIES
The VAR system is being used for the second season in Serie A but it failed to prevent several refereeing controversies during Saturday's games.
Juve's 2-1 win over Sampdoria featured three VAR decisions. Each team were awarded a penalty for handball while Sampdoria had a stoppage-time equaliser ruled out for a marginal offside decision following a VAR review which took nearly three minutes.
The most contentious decision involved the penalty awarded to Juventus in the second half for handball against Alex Ferrari.
Gazzetta dello Sport, in its post-match verdict of refereeing decisions, branded it a mistake, saying it was clearly unintentional and the player's arm was not raised in a way to merit the penalty.
Juventus coach Massimiliano Allegri said that VAR was best used for objective decisions such as offside.
"The VAR is an important instrument in objective situations… in subjective ones, it is still up to the discretion of the referee," he said.
"I might not have given either of the penalties but it's only in Italy that we stir up so much controversy."
His opposite number Marco Giampaolo said that the game was "morally a 2-2 draw".
"That's a decision where the dynamics of football are more important than the rules," he said, referring to the handball.
"For me, VAR is a legitimate instrument and you can't go back… But I think they made better use of it last season, we are doing worse instead of better."
SAMPDORIAPRESIDENTJOINSTHECRITICISM
Sampdoria president Massimo Ferrero also joined in.
"We can't expect to interrupt a game six or seven times for minimal incidents. The referee will lose his authority this way," he said.
"When we go to the stadium, we run the risk of seeing two matches – one on the pitch and one on the television. We need to give the authority back to the referee.
"It's more like going to the cinema than going to watch a football match."
LAZIOCOACHSIMONEINZAGHIALSOANGRY
Lazio coach Simone Inzaghi was also unhappy after his team's 1-1 draw at home to Torino, complaining that the "referee influenced the game".
Torino went ahead from a penalty awarded for minimal contact by Adam Marusic on Andrea Belotti while Lazio had a penalty appeal turned down for an alleged foul on Francesco Acerbi which could have potentially won them the game.
"Everybody saw the mistakes," said Inzaghi, adding that Torino should have had Armando Izzo sent off before halftime.
FIORENTINACOACHDEMANDSRESPECT
Fiorentina coach Stefano Pioli was another unhappy customer, claiming his team should have had a penalty for handball by Miguel Veloso during the 0-0 draw at Genoa.
"We want to be treated the same way as the other teams," he said. "A lot of penalties have been awarded for handballs far less obvious than today's.
"It was a clear handball, it doesn't matter if the ball has touched another part of the body first — if the arm is distant from the body, it's a penalty… and that was a penalty, full stop."
He added: "We demand respect. We are Fiorentina and want to be treated the same way as everyone else."
ROMAFINALLYFINDTHEIRIDENTITY
After a stuttering campaign which has featured several defeats to teams in the lower half of the table, AS Roma have won three of their last four league matches much to the relief of coach Eusebio Di Francesco.
"We've rediscovered our identity," he said after the 2-0 win over Parma. "We looked like a team who knew what they wanted."
(Writing by Brian Homewood; editing by Sudipto Ganguly)