Reindeer now smaller and lighter due to climate change, study finds
Comments
By Euronews & AP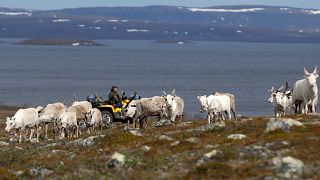 -
Reindeer herders in Finnish Lapland are concerned their prized animals are getting smaller because of climate change.
Finland's reindeer population reaches 200,000 in the wintertime with around 1,500 herders relying on them for their livelihood, breeding Santa's favourite animal for its meat, milk and fur. They are also a major tourist attraction with 300,000 people visiting the area annually for sleigh rides.
But climate change in the region — mean temperatures in Lapland have increased by 1.5 degrees Celsius over the past 150 years — make it harder for reindeer to graze on their food as warmer winters mean more rain.
"The worst is for us now, when we have the snow cover the ground, if we get rain coming on the snow, it means that the reindeer food, it's going to be in the icebox," Matti Sarkela, head of office for the Reindeer Herders' Association told the Associated Press.
"Reindeer can't dig the lichen from the ground through the ice. That's the worst thing (that) could happen for us during the wintertime of the climate change," she added.
Stephanie Lefrere, a researcher from the Finnish Environment Institute concurred.
"Reindeers are quite resilient," she said, "what we have observed since (the) Ice Age, for instance, is that they can adapt to very drastic conditions.
"But now the changes are too rapid and there are too many things," Lefrere highlighted.
Research conducted over 20 years on Norway's Svalbard archipelago found that although reindeer numbers had doubled, their size and weight had decreased — mostly due to greater competition for food.
The survey, released in 2016 by the James Hutton Institute, found that adult reindeers born in 1994 weighed 55kg while those born in 2012, weighed 48kg.
Meanwhile, the number of caribous or wild reindeer in the Arctic region has decreased by more than 50% since the mid-1980s, according to a report released earlier this month by the US National Oceanographic and Atmospheric Administration.
The study found that "climate indicators accounted for 54% of the variability in vital rates."