US government enters partial shutdown in row over Mexican wall
Comments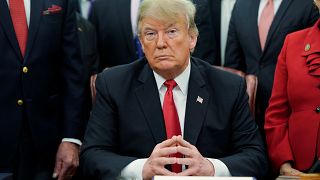 The U.S. government has been partially shut down as a fierce dispute continues between President Donald Trump and Congress.
The president wants five billion dollars signed off by Congress to build a wall along the border with Mexico, which was one of his key election pledges.
After failing to strike a budget deal on Friday, congressional leaders and the White House have pledged to keep talking this weekend as Christmas approaches.
Earlier this week Trump refused to agree to a short-term funding deal cut by Democratic and Republican senators because it did not include the five billion dollars.
Trump has tried to blame Democrats.
But they've repeatedly reminded him that he said last week he would be "proud" to shut the government down in order to get wall funding.
Federal parks will close and more than 400,000 federal "essential" employees in those agencies will work without pay until the dispute is resolved. Another 380,000 will be put on temporary leave.
Law enforcement efforts, border patrols, mail delivery and airport operations will keep running.
For the shutdown to end, both the House and the Senate will have to approve any deal negotiated between Trump's team and Republican and Democratic leaders.
The shutdown could persist at least until a new Congress convenes on Jan. 3, and Democrats take control of the House from Republicans.
That does not necessarily mean, however, that Trump would agree to a compromise.
The shutdown comes at the end of a perilous week for the president, one that saw Defense Secretary James Mattis resign in protest after Trump's sudden decision to pull U.S. troops out of Syria.