End of an era: Germany closes last active black coal mine
Comments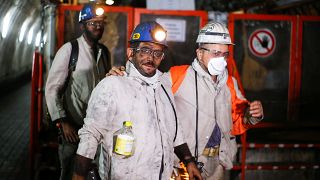 Copyright

REUTERS/Wolfgang Rattay
Since the mid-19th century, coal mining has been an essential part of German industry.
But, on Friday, the country's last active black coal mine, Prosper-Haniel, will cease its operations.
Operator RAG Deutsche Steinkohle AG will host a ceremony where miners will bring up the country's last lumps of black coal to commemorate the role the sector has played in German production for nearly 200 years.
This "black gold" was an essential aspect of Germany's economic recovery following World War II.
Prosper-Haniel, near the Western town of Bottrop, was the last operating black coal mine in Germany.
In 2007, German Chancellor Angela Merkel's government reached a deal with industry leaders to phase out coal production by 2018.
More than 600,000 locals worked in the sector during the 1950s, but those numbers had shrunk to just 4,500 by 2017, according to Clean Energy Wire.
Each year, two and a half million tonnes of premium coal was mined from depths reaching 1,250 metres from Prosper-Haniel and used in the generation of electricity.
But Germany's phasing out of black-coal mining is not a farewell to coal altogether. Fossil fuels still account for almost 40% of Germany's energy mix.
"In any case, it is a turning point in Germany that the black coal mining industry, which was so characteristic of the industrial revolution in Germany, is now being discontinued," Martin Kaiser of Greenpeace Germany told Euronews via Skype.
"It is not yet a victory for the environment, because hard coal continues to be burned in Germany, which is imported here from countries such as Colombia, Australia or South Africa."
Kaiser said Germany's central task now is to find a way of gradually phasing out the burning of coal in order to bring down emissions in Germany, which have been stagnating for 10 years.
Kaiser told Euronews the country needs to invest billions in future technologies that will make it possible to supply electricity with 100% renewable energies, in order to achieve climate protection targets.
"I believe that this country, Germany, has proven that it can do it," he added.
Kaiser also said Germany needs billions of euros to offer a new perspective and innovations for those companies working in hard coal and lignite.
"We must above all take the lignite (or brown coal) regions with us, which still derive a large part of their added value from this fossil energy," he said.
German President Frank-Walter Steinmeier and EU Commission President Jean-Claude Juncker will be in Bottrop to mark the end of an era for German industry.