The food exhibition with the 'Yuck' factor
Comments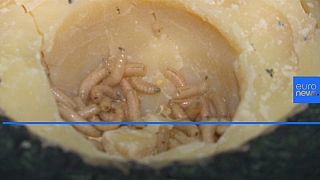 The "Disgusting Food Museum" in Los Angeles is the place to be for alternative foodies.
A temporary exhibition, it includes maggot cheese, fish testicle sushi and Chinese mouse wine.
Visitors can taste as well as look and each is even given a free sick bag when they enter. After they make their way through the exhibition, which includes dishes and delicacies from around the world, they pass a tasting bar where they can sample some of the items, including Iceland's cured shark, Hakarl, and Sardinia's Casu Marzu cheese, which is riddled with insect larvae. There is also Sweden's smelly Surstromming fermented herring.
"Disgusting Food Museum" runs at Los Angeles' A+D Architecture and Design Museum until February 17.