Peace protesters face hostility in Moscow
Comments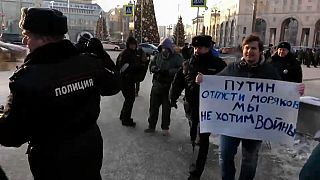 Around 100 people gathered in front of the FSB secret service headquarters in Moscow on Sunday, some wearing yellow vests, to call for the release of the Ukrainian sailors captured in the Sea of Azov, an end to the conflict in Ukraine, and the release of political prisoners.
Another march had been due to take place in the Russian capital, a "march for peace", but the authorities refused permission and arrested one of the organisers.
"The goal of the action is to show that we are not afraid, that's all, this is the main goal," said the well-known civil rights activist Leonid Gozman.
"The regime seems to me to be in a state of agony, a very long agony and uses direct violence more and more. It tries to intimidate everyone, so people come here who show that they are not afraid, that's all."
Euronews' Galina Polonskaya said: "Those who came here under the building of the main office of the FSB in the Lubyanka advocate peace, peace with Ukraine, and an end to all military conflicts in which Russia is involved.
"While I was filming here, one of the organisers of this meeting was doused with some very foul-smelling liquid."
Protesters were angered by the peaceniks, including a group of pro-state South Eastern Radical Block (SERB) activists, who also made life difficult for journalists.
When asked why they had sprayed one of the peace activists with the noxious liquid, the reply was curt.
"We didn't spray him, we gave him back all the muck which he is throwing on Russia."
The SERB activists tried to shout down the marchers and interrupted questions when they were asked. Several people were detained, one shouting "One day Russia will be free" as he was carried off.