Which countries in Europe have the deadliest roads?
Comments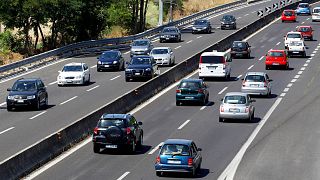 Russian roads are the deadliest to navigate in Europe, while Norway and Switzerland boast the safest, according to new statistics released by the World Health Organization on Friday.
Using data from 2016, the report said there were more than 20,000 road traffic fatalities throughout the year, averaging at 18 deaths per 100,000 people. Of those deaths, 23% involved alcohol.
This compares to only 135 reported road traffic deaths in Norway in 2016 and 216 in Switzerland, both averaging at 2.7 deaths per 100,000 people.
Therefore, road users are almost seven times more likely to be killed in a road traffic incident in Russia than in Norway or Switzerland.
In the European Union alone, eastern bloc countries had poorer records for road traffic deaths in comparision to western and northern Europe.
Romania had the worst record in the European Union, reaching an average of 10.3 deaths per 100,000 people, while Sweden ranked safest with 2.8 deaths on average.
What is behind the differences?
A nation's wealth played a key role in the statistics for Europe, which showed that a person is three times more likely to lose their life in a road traffic incident in a middle-income country than in a high-income country.
This was due to a variety of possible reasons, including looser traffic laws and poor infrastructure.
Drivers and passengers of four-wheeled vehicles were most in danger, making up 48% of road traffic deaths in 2016. Pedestrians were second most at threat, while cyclists were the safest with only 5% per cent of deaths reported.
How does Europe compare to the rest of the world?
In comparison to the rest of the world, Europe, by far, has the safest record.
Road users were twice as likely to die in a road traffic incident in Africa, which had the worst record, than in Europe.
Key takeaways
Other key takeaways from the report, using global statistics, can be found below:
The number of road traffic deaths rose in 2016, reaching 1.35 million

Road traffic injuries are the leading killer of children and young adults

Road traffic incidents are the eighth leading cause of death for all ages

There were 68 countries that reported a rise in road traffic deaths since 2010, of which 84% are low or middle-income countries

Despite only 1% of the motor vehicles being situated in low-income countries, 13% of the reported deaths happen in these low-income countries