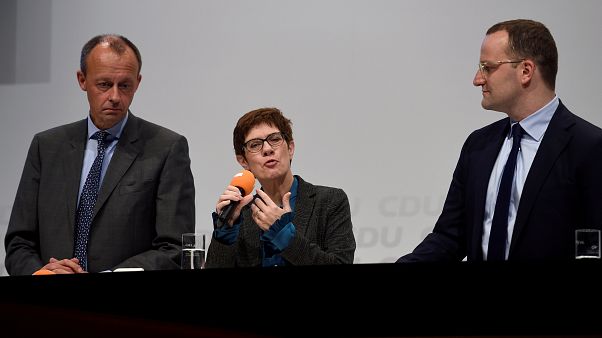 A new era begins in Germany as Angela Merkel steps down as leader of the Christian Democrats party.
The party will vote today on who replaces Merkel - putting them on track to be in the race to become the next Chancellor of the country in 2021.
Angela Merkel's potential successors need to lift the centre-right Christian Democratic Union party, as it is polling under 30 percent.
Annegret Kramp-Karrenbauer, a former state governor and now the general secretary of the CDU, is regarded as one of the favourites to succeed Merkel.
"We need to get rid of what's slowing us down," Kramp-Karrenbauer said "And for many entrepreneurs in this country, that means too few trained professionals, too much bureaucracy and too high costs. Here, too, we have no problem with knowledge, we must finally do it. And we want to tackle that together."
However, another favourite is a onetime rival of the Chancellor, former parliamentary leader Friedrich Merz. He is seeking a comeback after a decade away from frontline politics.
"We are facing a turning point and need a breakthrough for the next years. And this breakthrough has to start with a deep analysis of our own condition," Merz said.
The third candidate was a critic of Merkel. Jens Spahn became health minister in March and has made migration a focus. He says the party needs to start "a real change of generations."
"The combination of (being) modern and cosmopolitan and at the same time very values-orientated, (attached to notions of homeland, family-orientated) - that is what I would like to develop further and secure it for my generation in the next 10 to 20 years. And this is the motivation with which I am here and why I run for CDU party leadership," Spahn said.