'Gilets jaunes': Opposition MPs to file motion of no confidence against French government
Comments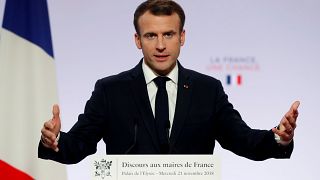 MPs from the French Socialist Party, the far-left La France Insoumise (LFI) and the French Communist Party (PCF), dissatisfied with the government's response to the "gilets jaunes" ("yellow vests") crisis, will file a motion of no confidence on Monday.
"In the coming days, we will seek to broaden the group of people who can file this motion with us including in other political groups," said Olivier Faure, head of the French Socialist Party, on Thursday as he stood with representatives of LFI and PCF.
Macron's centrist Republic on the Move () party has a strong majority in the 577-seat house, so the three left-wing parties alone don't anywhere near enough votes to bring down the government, hence they are trying to attract support from other opposition groups.
Among those planning to question Emmanuel Macron's leadership was the LFI, whose leader, Jean-Luc Melenchon, has been an outspoken critic of the current government in the past.
The yellow vests movement started on November 17 on social media as a response to hikes in fuel taxes and has since snowballed to include protests against social inequalities.
Prime Minister Édouard Philippe on Tuesday announced some concessions that included a six-month suspension of controversial increases to fuel taxes.
While this was the first major u-turn for Macron's administration, many said they did not go far enough.
"The French don't want crumbs, they want a baguette," yellow vest spokesman Benjamin Cauchy told French news channel BFM.
Eric Drouet, one of the movement's most famous instigators, called for a "return to Paris" on Saturday, "near the places of power, the Champs-Élysées, the Arc de Triomphe, Concorde".