What did we learn from Theresa May's Brexit legal advice?
Comments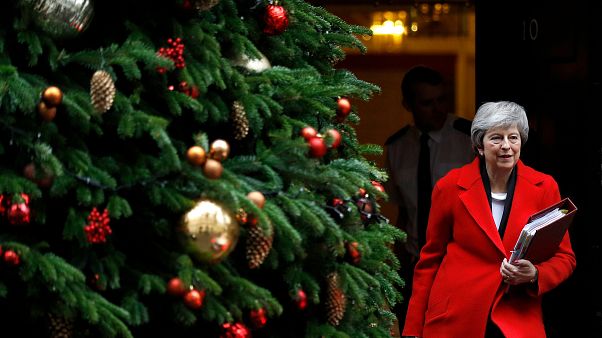 -
Brexit legal advice to British Prime Minister Theresa May was published this morning after MPs yesterday forced the government's hand.
Euronews spoke to Steve Peers, a professor of EU law at the University of Essex, to get his view on what the document tells us.
He said the key paragraphs in the six-page document were on the withdrawal protocol — known commonly as the backstop — regarding Ireland and Northern Ireland.
Paragraph 16 in the document says the backstop will "endure indefinitely", something the Democratic Unionist Party in Northern Ireland has called "devastating".
The backstop is a fall-back position to maintain an open border between Northern Ireland and its southern neighbours in the event that the UK leaves the EU without securing an all-encompassing deal.
Professor Steve Peers told Euronews that this means both sides will have to apply the backstop unless they both agree to replace it with something else.
"There is no other way to put it than that," he added. "Like many treaties, of course, they apply until you agree to replace them."
Caroline Lucas MP, also tweeted the key paragraphs being discussed.
She highlighted paragraph 30 in the document, which talks about the route out of the backstop.
It says the current drafting of the protocol "does not provide for a mechanism that is likely to enable the UK to lawfully exit the UK-wide customs union without a subsequent agreement".
Peers said this paragraph basically means that neither the UK or the EU can decide "we are leaving" without coming to a joint agreement on it.
"If they don't get a joint agreement, it still applies," he said.
The conclusion in paragraph 33 says that "there is a legal risk that the United Kingdom might become subject to protracted and repeating rounds of negotiations".
Peers said he doesn't think this paragraph adds anything.
"If they don't agree to replace it, it will still apply," he told Euronews.
Peers added he thinks the advice was nothing that had not already been openly discussed and said he didn't understand why the government did not want to reveal the information in full.
"The UK and EU will end up in the backstop unless they replace it and that is the correct legal interpretation - and the government had more or less accepted that it was, so I'm not sure why they fought so hard.
"It does have caveats but there is nowhere to force it too so it could end up being indefinite so it is both correct and unsurprising really," he added.
As far as the customs issues and goods are concerned, this means that the UK will still be covered by the EU rules, Peers concluded.