Spanish defiance as community vows to keep memory of murdered left-wing activist alive
Comments
By Pascale Davies and Marta Rodriguez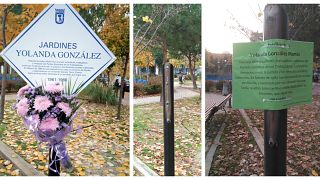 A young Spanish activist who was killed by a far-right group in 1980 was commemorated by a plaque in Madrid just over two weeks ago.
But a week after it was put up, the monument to 19-year-old leftist Yolanda González Martin was defaced with a swastika.
That wasn't the end of it: a neighbour later found the plaque in a bin in the La Latina district of Madrid.
But the community has now hit back by erecting a plastic note honouring the activist in place of the one that was torn down.
"This Tuesday we repaired the plaque that was torn down and found by a neighbour," La Latina district councillor Carlos Sánchez Mato, told Euronews.
"Once (the plaque) is fixed it will be put up again in the place where it should be. It will return to the site a thousand times because the memory of Yolanda González warrants it, as does the courage and civility of our neighbours."
The plastic commemoration reads: "Yolanda González Martín. A student leader, worker and militant of the Socialist Workers Party. She fought for real democracy, justice and social and labour rights. In February 1980 she was kidnapped in her house in Aluhe and murdered by a fascist commando. She was 19 years old. These gardens are dedicated to her memory, which is still alive."
Who was Yolanda González Martín?
The Basque woman from Bilbao lived in Madrid with her boyfriend. She was part of a Trotskyist movement, the Socialist Workers Party, and took part in multiple protests calling for democracy.
What happened to her?
On February 1, 1980, she heard a knock at the door and answered it. She was greeted by members of the criminal group Grupo 41, which was linked to the right-wing Fuerza Nueva party.
According to newspaper reports at the time, the group was searching the apartment for links to ETA, the Basque militant group, which has now disbanded and was responsible for the deaths of nearly 800 people in their fight for an independent state.
But González had no links to the group.
Nevertheless, she was forced into a car and interrogated on the way to an empty stretch of a motorway. They got out of the car to an empty stretch off the highway. Three shots were fired and she was found dead at the scene.
Spain's far-right resurgence
While it is still undetermined who is responsible for defacing and tearing down the plaque, 40-years on from Gonzalez's death, there are fears of a rise in the far-right in Spain.
On Sunday, the populist Vox Party entered Andalucia's regional parliament after winning 12 seats in an election.
It is the first time a right-wing party has won seats in a regional election since the death of the Franco dictatorship.