Watch again: Soyuz rocket launches to ISS with new crew
Comments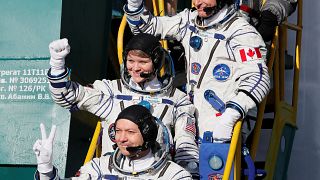 Three astronauts are heading to the ISS in a Soyuz rocket. It's the first manned mission after the booster failure of the last launch in October.
Retired astronaut and all round good egg, Chris Hadfield, spoke to Euronews earlier today to talk about the launch.
What does it feel like just hours before the take off ?
It's hugely exciting, if you think about David Saint-Jacques who is the Canadian on board, he has been in quarantine in Baikonur for the last two weeks, he has been training for this like for three years, he has been training as an astronaut for nine years and he has been dreaming about it his whole life .... and in 3 hours and 39 minutes he is going to leave Earth so it's one of the biggest days if not the biggest day in his life
Just two months ago that booster failure… emergency landing does that play into the psychological preparation? How might you get your head around that setback two months ago?
As astronauts and cosmonauts were acutely aware of the actual danger of what's going on, I think a lot of people watching on television … they just don't think about the danger but that's our whole job, we train for it, we plan for it and even though the booster rocket failed and exploded the main rocket, the crew wasn't hurt at all.
What about the relationships just three people going up on that rocket .. how intense do these relationships become?
He has seen more of those other two people, Anne and Oleg, he has seen more of them than his family for the last year … you're counting on your lives with each other, that's just how it is, and there are so many things you have to know to operate the space station with the 200 experiments on board so they become really members of your family, and they are with you solving these problems, your family is just standing a few miles away sort of hoping that things go okay, but it's really the two cosmonauts or astronauts next to you that are the most important people on the world in that moment.