Olympics: Canadian weightlifter Girard gets gold medal at last
Comments
By Reuters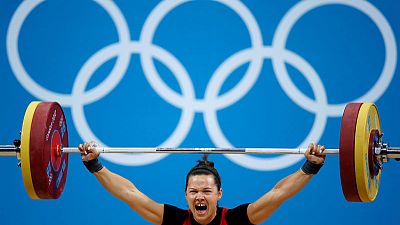 -
(Reuters) – It took more than six years hut Christine Girard was finally awarded her 2012 London Games weightlifting gold medal on Monday to become Canada's first Olympic champion in the sport.
At a ceremony held at the National Arts Centre in Ottawa, Girard, who has now retired but competed in the 63kg class, also received a bronze from the 2008 Beijing Games, making her the first Canadian to win two Olympic medals in weightlifting.
Girard was initially awarded bronze at the 2012 Olympics but, after the retesting of more than 1,500 urine samples from the Beijing and London Games the samples from two athletes who placed ahead of her, Maiya Maneza of Kazakhstan and Svetlana Tsarukaeva of Russia, were found positive for doping.
They were disqualified and Girard, now 33, was confirmed as the London 2012 Olympic champion in April 2018.
In late 2016, Girard was awarded the Beijing Olympic bronze after Irina Nekrassova of Kazakhstan was stripped of her silver for testing positive for banned substances.
"I want to celebrate this moment with all Canadians as it is a victory of our values," Girard said in a statement.
"I want people to understand that regardless of your gender or sport, with hard work, determination and a little bit of patience, your dreams are within reach."
Girard joins Dylan Armstrong (athletics, Beijing 2008) and Beckie Scott (cross-country skiing, Salt Lake City 2002) as Canadian Olympians to receive medal reallocations due to doping violations by other competitors.
"We are thrilled that the day has now arrived where Christine will be properly recognized and celebrated for her historic achievements at the Beijing 2008 and London 2012 Olympic Games," said Canadian Olympic Committee president Tricia Smith.
"Christine has shown incredible strength and perseverance throughout her long career, always competing with integrity and grace. We are so pleased to see her receive the Olympic medals which she has so rightfully earned."
(Reporting by Steve Keating in Toronto. Editing by Ken Ferris)