Mutiny on the Bounty: consumers horrified over advent calendar chocolates
Comments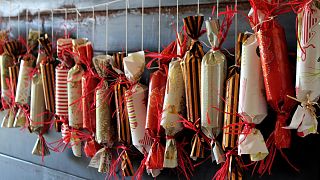 Dozens of British consumers have claimed "Christmas is cancelled" after opening the first door of their Celebrations advent calendar on December 1, only to find the first chocolate was a coconut Bounty.
"What kind of monster puts a Bounty behind the first door in advent calendar," Wales-based Nia Wilding asked on Twitter. "Christmas is cancelled."
One Twitter user from Faversham, Kent, was so disappointed by the Bounty bar in his calendar that he flushed the piece of chocolate down the toilet.
"Whoever decided to put a Bounty behind the first door of my advent calendar deserves the sack," he added.
But the despair for some chocolate lovers was not yet over as behind the door for day two was a Snickers bar, which triggered even more calls for a Christmas cancellation.
And if that wasn't enough, the Mars bar behind door number three prompted a social media meltdown.
Scottish Twitter user Fern Anderson said Celebrations was out to ruin her festive spirit. "If I don't get a Malteaser tomorrow, I'll be absolutely furious," she added.
Others said they had given the calendar ample chances to impress, but it simply failed to reach the mark. "I'm done with it," Norwich-based Rebekka Arnold said.
Favourite Celebrations poll
But where does this huge resentment stem from? According to a YouGov poll conducted in December 2017, Mars bars were rated the least favourite Celebrations chocolate on average among consumers. While Bounty and Snickers also weren't at the top, Twix and Milky Way were still less favoured.
Malteasers topped every age bracket as the best chocolate.
However, Mars, Bounty and Snickers were the three least favourite chocolates for the 18-24 bracket, and the same three chocolates were featured in the bottom four places of the 25-34 bracket. Older age brackets showed better favourability for the confectionary.
The uproar on social media over the advent calendar chocolate could, therefore, indicate the age groups using the platform for this discussion.
Regardless, Celebrations advent calendar owners are waiting with bated breath for the chocolate behind tomorrow's door, number four.