HIV is on the rise in Europe, WHO report finds
Comments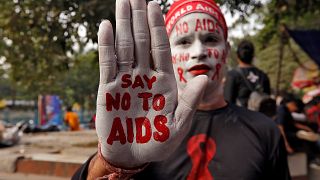 How high are HIV rates in your country? Well, that depends on whether you live in eastern or western Europe.
The European Centre for Disease Prevention and Control (ECDC) and the WHO Regional Office for Europe have released the latest data to mark the 30th anniversary of World AIDS Day.
The WHO report on HIV/AIDS surveillance in Europe in 2018 (based on data from 2017) has found growing disparities between countries from the east and west of Europe, with the former accounting for 82% of the region's new diagnoses in 2017.
Released on Wednesday, the study looks into HIV rates in the EU, the EU/EEA, and the WHO European Region — a territory of 53 countries spanning from EU/EEA countries to the Urals, which includes Russia, Turkey, Tajikistan and Uzbekistan.
Two countries alone — Ukraine and the Russian Federation — accounted for 75% of all newly diagnosed infection cases in the WHO European Region, and for 92% of cases in the east.
On the whole, the study finds that HIV diagnoses are on the rise in Europe, even with steadily decreasing figures in the EU/EEA. More than 2 million people are affected by the condition in the whole region, with one in five living with HIV whilst unaware of their infection.
According to the report, a large number of people diagnosed with HIV live in the east of the WHO European Region, where last year the infection rate was as high as 51.1 out of 100,000. The number of AIDS cases has also nearly doubled in the east during the last decade, but has been stabilising since 2012.
In the West and the EU/EEA, HIV rates were dramatically lower in 2017 (6.9 and 6.2 per 100,000, respectively) and lowest in the centre (3.2 per 100,000).
The mode of HIV transmission also varies throughout the region. In the EU/EEA, sexual contact between men was the most common cause, whereas in the east, it was heterosexual relations and intravenous drug use.
According to the data, stark contrasts even lie between EU/EEA countries. Latvia and Estonia saw the highest number of new HIV diagnoses for 2017, with 371 and 219 cases respectively. The lowest numbers were found in Slovakia (70 cases) and Slovenia (39 cases). Rates of HIV diagnoses have declined in recent years in Austria, Belgium, Denmark, Estonia, the Netherlands, Norway, Spain and the United Kingdom. But since 2008, they have doubled in Bulgaria, Cyprus, Lithuania, the Czech Republic, Hungary, Malta and Poland.
The report concludes that the European region is "not on track" to meet the WHO and UN joint program on HIV targets, which aims to "end the epidemic of AIDS" once and for all.
"HIV transmission remains a major public health concern", the report reads.