'Yellow Vest' representatives meet French PM
Comments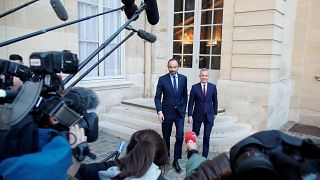 French Prime Minister Édouard Philippe has been meeting with representatives of the 'Yellow Vest' movement in a bid to avoid a repeat of last week's violence in Paris.
The group has carried out demonstrations across the country, blocking access to fuel depots, main roads and public transport.
Its primary focus was a planned rise in fuel taxes on petrol and diesel but the movement has widened and now encompasses protests against economic hardship and the perceived elitism of French President Emmanuel Macron.
Philippe met the group at the Hôtel de Matignon, his official residence in Paris.
Euronews correspondent Anelise Borges explains more about what came out of that meeting: