Watch: South Korean train ventures into North Korea for the first time in more than a decade
Comments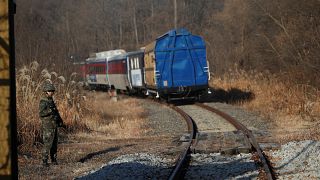 -
A train has ventured from South Korea across one of the world's most heavily-guarded borders into North Korea for the first time in more than a decade.
A team of South Korean officials boarded to investigate how the North's rail network can be modernised and potentially linked up to the South.
The experts travelled from Dorasan, near Seoul, on Friday morning to the demilitarised zone that separates the two Koreas — carrying their own fuel and supplies due to trade sanctions.
The team will spend the next 18 days on the train inspecting the North's track and railway infrastructure.
In a speech last year, South Korean President Moon Jae-in said he dreamt of building a railroad connecting the divided neighbours.
He said the "severed inter-Korean railway will be connected again," and that "a train departing from Busan and Mokpo will run through Pyongyang and Beijing, and head towards Russia and Europe."
North Korea's Kim Jong-un said his country's rails were in an "embarrassing state" and asked for help with updating the infrastructure at a meeting with Moon in April.