Watch: Putin and Saudi crown prince laugh and clap hands at G20 summit
Comments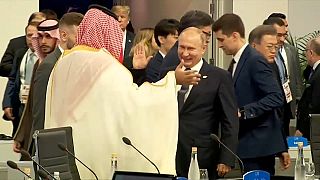 -
Russian President Vladimir Putin and Saudi Crown Prince Mohammed bin Salman clapped hands and laughed as they greeted each other before sitting down at the opening session of the G20 summit in Argentina.
Leaders from the world's largest economies gathered in Buenos Aires to discuss reforms that need to be made to world trade.
Other issues expected to weigh in on talks include climate change, the murder of Saudi journalist Jamal Khashoggi and Russia's actions in Ukraine.