World looks on as Saudi crown prince and Vladimir Putin laugh, clasp hands
Comments
By Yuliya Talmazan with NBC News World News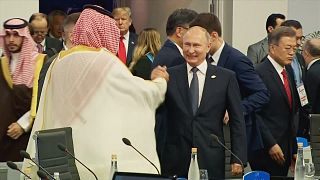 -
The Saudi crown prince implicated in the murder of a Washington Post columnist enjoyed a hearty laugh and enthusiastically clasped hands with Russian President Vladimir Putin at the kick-off of the G-20 summit in Argentina on Friday.
Saudi Arabia's Crown Prince Mohammed bin Salman grinned and repeatedly slapped a smiling Putin's hand before they sat down next to each other at the summit in Buenos Aires.
Other world leaders were not as happy to see either man. The prince, known as MBS, is believed to have ordered the killing of journalist Jamal Khashoggi in a Saudi consulate in Turkey, according to an assessment by the CIA. Saudi officials have denied that MBS was involved while giving conflicting accounts of what happened to Khashoggi.
Putin, who's also been accused of brutally cracking down on dissidents, was at the center of another an international crisis before the summit after Russian forces seized three Ukrainian ships and two dozen sailors over the weekend.
President Donald Trump tweeted Thursday that he was cancelling a planned two-hour sit-down with Putin at the summit because of the military move.
The Associated Press reported that Trump, who's been publicly skeptical about the CIA's findings, walked by the chummy pair without appearing to acknowledge them.
Bin Salman met with South Korean and Mexican leaders. He also got cosy with French President Emmanuel Macron — the two spoke in hushed tones with their heads close together.
France was among a number of European nations who expressed concern about Khashoggi's killing. Macron's government imposed sanctions earlier this month on 18 Saudi citizens linked to the journalist's murder.
British Prime Minister Theresa May also said she would be "robust" when she talks to the crown prince about Khashoggi and the situation in Yemen, where Saudi Arabia is involved in a proxy war.
Khashoggi was killed after entering Saudi embassy in Turkey's capital on Oct. 2.
After vehement denials that Riyadh was involved in Khashoggi's disappearance, Saudi officials admitted that the U.S.-based dissident was killed inside the embassy building in what it called a "rogue" operation. The kingdom denies the crown prince had any knowledge of the killing.
Although U.S. intelligence assessed that Bin Salman likely ordered Khashoggi's killing, President Donald Trump last week decided against imposing sanctions on an important trade ally and Middle East intermediary, saying he was not convinced the crown prince was involved.
Despite initial pleasantries, the crown prince looked sidelined during the official "family photo" of world leaders and other dignitaries, standing at the far edge of the group portrait and ignored.
The first G20 summit to be hosted in South America will wrap up on Saturday.