Drift racing: A motorsport gaining popularity in Jordan
Comments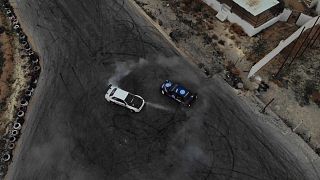 Drift racing is one of the fasting growing motorsports in the Middle East.
Pioneered by Japanese street racers in the 1970s, it evolved into a mainstream international sport in the early 2000s. In recent years it has gained popularity, particularly across Jordan.
Mohammad Kawash is a mechanic who was introduced to drifting when he began customising cars and engines.
"Jordan is renowned in the Middle East for having skilled drivers and strong race cars," says Kawash.
Euronews reporter Rosie-Lyse Thompson tests drift racing in Jordan
In drift racing, instead of driving straight like in conventional racing, the car is steered sideways to intentionally lose traction on the wheels.
"The track driving and drifting all have a specific set of rules and regulations, that you have to follow and practice to improve at the sport," explains Jordanian drift racer Abed Sawalhi, who has been competing since 2013.
"The amount of smoke, the look of the car, the way the competitor drives and the tricks he does along the way are important," he adds.
With prolonged skidding and a rapid build-up of friction, the tyres of drift cars are burnt through within a few minutes.
This is just one of the many costs associated with the sport, where customised streetcars – and their additional maintenance and track fees – can run into the tens of thousands of dollars.