Did you know? Fun facts about Formula One
Comments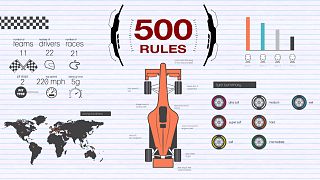 With the Formula One 2018 season having come to an end at the Abu Dhabi Grand Prix, here are some fun facts about the motorsport according to F1's official body.
1. What is the lifespan of an F1 car engine?
A Formula 1 car's engine can only last, on average, about seven races. Passenger car engines usually last around ten years.
2. Can F1 cars really drive upside down?
Due to their aerodynamics F1 cars can technically drive upside down, at high speeds, for up to two seconds.
3. What does the name F1 stand for?
The name F1 was created to describe the "perfect formula" for first class racing.
4. How regulated is the sport?
There are around 500 rules and regulations that teams have to follow – on top of international sporting codes.
5. How much does an F1 car cost?
An average F1 car can cost up to $2 million dollars to build. On top of that, there are yearly maintenance costs, which can extend to more than $350 million.
6. How hot does the cockpit get?
Temperatures in the cockpit can reach around 50 degrees celsius on race day.
7. What does a driver's uniform consist of?
Despite the heat, Formula 1 drivers have to wear two suits whilst driving.
This includes fireproof underwear and overalls, a balaclava, a material helmet to cover their faces plus fire-retardant boots and gloves.
8. F1 is a sport, so do drivers lose weight when practicing it?
Drivers can lose about two kilograms of their body weight in a single race, but that's due to water loss caused by the heat in the cockpit.
9. How fast are F1 cars?
Drivers can reach the speed of approximately 360 kilometers per hour during a race when travelling at top speed.