Medical care under siege in Gaza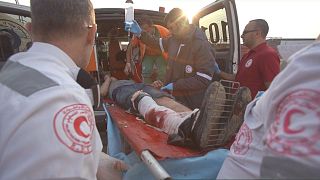 March 30th, 2018 marked the start of the Great March of Return in Gaza. It has been taking place along the Israeli barrier which separates Gaza and Israel. Palestinians are demanding the right to return to their lands that were taken over by Israel, together with an end to an 11-year Israeli blockade.
Since March, over 220 people have been killed by the Israeli soldiers and around 24,000 were injured.
East of Gaza city is the neighborhood of Malaka – a hotspot for these mass demonstrations. Every Friday, Palestinians storm the fence to challenge the Israeli blockade
Women, children, and families gather at the fence to watch the protests. While others participate and get shot. "Aid Zone" was not allowed closer than 800 meters for security reasons.
The First Aid Tent
Near the first aid tent. We see a patient arrive. He was shot in the leg. He's only 16. We are calling him "Issam" to keep his identity private. We spoke to Doctor Bashar Murad about Issam.
"He has an open fracture and we don't know if he has a vascular or neurological injury. We will stabilize the patient here and then refer him to a hospital."
Nearly 50% of patients at the hospital are discharged immediately. There are 10 Trauma Stabilization Points along the fence. They were established by the Ministry of Health and the Palestine Red Crescent Society, and financed by the European Humanitarian Aid Department and supported by the World Health Organization.
Many of the victims suffer from live ammunition related injuries. Murad tells Euronews there has been a shift in where shots are targeted on their bodies.
"In the past month, many of (the gunshot) victims were hit in the lower limbs. Previously, a huge number of patients had received gunshot wounds to their upper body: in the chest, neck and the head."
Issam is transferred to Gaza's main medical center: the Al Shifa Hospital. When we meet him one day later, his leg has been amputated. He tells Euronews his story.
"I was holding the fence, covering my two friends who were cutting the barbed wire. Something happened, I didn't see anything, my leg felt like it was flying off, the rest hit my stomach. I've participated in the marches every Friday because we are surrounded and under siege. We have to support each other. We know that we might be injured, but we have to make sacrifices".
Since the protests began, Gaza's hospitals have been filling out with patients. Issam joins around 100 others who have lost limbs during the demonstrations. The huge influx of casualties is pushing Gaza's already crumbling health system to the brink of collapse. A World Health Organization official describes the Gazan health system to us: "It's been suffering for several years from the blockade. It suffers from chronic shortages of essential life-saving medications and medical supplies, as well as from the lack of qualified health workers who can provide quality treatment".
As the protests have intensified, the EU has increased its support in terms of training and medical equipment. But patients with more serious injuries still need long-term care.
Aid Zone's reporter Monica Pinna spoke to **Filippo Ortolani** from EU Humanitarian Aid
Monica Pinna: "How many people are going to need long-term assistance?
FilippoOrtolani: "We are talking roughly 5,000 people who have been injured with lower limb injuries during the demonstrations out of which 400- 500 people, you know will necessitate limb reconstructions. That means up to seven surgeries and up to three years of continuous rehabilitation. So the EU will support this long-term health care by the installation of a specialized ward which would provide the limb reconstruction and post-op services to injured"
Traveling from Gaza City to Khan Yunis
We travel South of Gaza to the city of Khan Yunis, to meet a man whose rehabilitation is far from over. He was injured in April and is in grave need of a bone transplant. Both Israel and Egypt won't allow him to leave Gaza. We're calling him Ali. He described his ordeal:
"The gas canister impacted me directly here. It entered my mouth and stopped in the palate. I felt everything turning around me. I felt dizzy. I put my hand on my cheek and I saw blood on the ground. I felt my bone wasn't there anymore"
He has been operated on twice. But Gaza-based doctors are unable to do anything more than prescribe painkillers to alleviate his acute pain. Ali tells us that he misses everyday things: "I'm unable to live normally as I did before the injury. I wish I could – at least – be able to eat bread. I miss bread".
20% increase in patients since marches began
A clinic in Khan Yunis treats around 200 patients daily. They've had a 20% increase in patients since the demonstrations began. The NGO Médecins du Monde (MDM) (with EU funding) supports several Clinics like this in the Strip.
Abdelrahim Al Mahalawi from MDM tells us that the clinics suffer from a shortage of equipment and supplies.
"Our intervention focuses on emergency and trauma cases. To upgrade the capacity of this clinic in terms of wound care and post-operation care. We try to supply as much as we can to so that the patients' service here become charge free, but even in our work we can't supply 100 percent of what needed".
A peaceful protest that didn't end that way
Ali participated in the first two Fridays of demonstrations around March and April. He told us that he was participating peacefully and no one had guns. He didn't expect to end up wounded.
"We were about 300 meters away from the fence, in spite of this I was injured. The bulk of the people that were injured were at least 500 or 600 meters away".
Like 53% of Gazans, Ali doesn't have a job. None of his five family members have regular work. Water and Electricity are rationed. Everyday life is a struggle.
"Economic conditions here are really difficult. We have nothing. That's why people are demonstrating at the fence. It has triggered demonstrations. They want freedom, they want the end of the blockade, they want to work, to have a life like everybody else".
Gaza residents are isolated. The right to health care remains a challenge not only for those injured but also those suffering from chronic diseases, like diabetes or cancer. Whether ill or injured, all they can do is wait.