Iran 'ready to discuss human rights' if EU fixes nuclear accord
Comments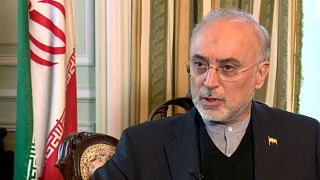 Iran may be willing to put human rights discussions on the table if the European Union can successfully rebalance the 2015 nuclear accord, the head of the country's atomic energy authority has told Euronews.
Ali Akbar Salehi, who is also a vice-president in the Iranian government, said in an interview at the Iranian embassy in Brussels that he had been convinced after talks with EU foreign policy supremo Federica Mogherini and other officials that European nations were doing their utmost to deliver economic benefits to his country despite the return of US sanctions.
Donald Trump this year pulled out of the Joint Comprehensive Plan of Action (JCPOA) under which Iran had agreed to halt activities that could contribute to a nuclear weapons programme in return for an end to an international trade embargo. He reintroduced sanctions but the other partners to the deal - the European Union, Russia and China - agreed to remain within the agreed framework. However, they have struggled to deliver meaningful benefits to Iran because of the influence of the US on global trade through the use of the dollar.
"If we can save JCPOA, cooperation with the EU could be expanded. Iran can be a good complement to Europe. We can even resume human rights talk with EU," Salehi told Euronews.
However, he warned that failure to deliver would have consequences.
"We do not bluff. If the JCPOA breaks down and (leader) orders, we can very easily back to our situation before and even beyond that."
Salehi said he had discussed a deadline with his EU counterparts but refused to reveal what it was.
The EU has agreed to set up a special framework to allow it to circumvent US sanctions but individual nations have been reluctant to host the structure for fear of falling foul of the US.