Chuck Norris meets Viktor Orbán: Street fighting men get to know each other
Comments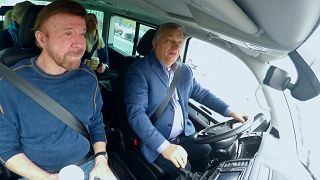 Hungarian Prime Minister Viktor Orbán told American martial artist and actor Chuck Norris of how liberals "hate" him like US President Donald Trump, and described himself as a "street fighter" in a video posted to the leader's Facebook page on Wednesday.
Orbán spoke of his humble upbringing in a small village as he drove Norris to view a counter-terrorism training operation.
"You know I'm a street fighter basically. I'm not coming from the elite. I'm coming from a small village 40 kilometres from here," Orbán said.
Norris, well known for starring alongside Bruce Lee in martial arts films, compared the Hungarian leader to his own president after Orbán discussed commentary of his leadership.
"Ninety percent of comment on me is negative," Orbán said. "The liberals hate me."
To which Norris replied: "Like Trump?"
"A little bit more than that," said Orbán.
The prime minister gave Norris a tour of an anti-terrorism unit, describing soldiers as the "toughest guys" and the "highest level and quality of defending the people."
Norris is visiting Hungary as part of a charity initiative.
In a statement to Euronews, a spokesperson from Orbán's office said: "Chuck Norris visited Hungary to give presentations. During his stay he also met Prime Minister Viktor Orbán."
Euronews reached out to Norris for further comment.