Ukraine: What is meant by martial law?
Comments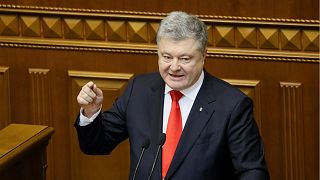 Copyright

Reuters/Valentyn Ogirenko
Ukraine's government has agreed to impose thirty days of martial law, starting Wednesday, across ten regions bordering Russia to the east and the Black and Azov Seas to the south.
The decision came in response to a Black Sea spat on Sunday, where Russia fired upon and seized three Ukrainian vessels, and detained 23 Ukrainian sailors. Ukraine called the incident "an act of aggression," but Russia maintains Ukrainian ships had trespassed in its waters.
But what is martial law? And how is it going to affect Ukraine?
Ukraine's martial law
Martial law is generally implemented when a country incurs civil unrest, is in a time of national crisis, or is in a state of war. However, Ukrainian President Petro Poroshenko has maintained that the introduction of martial law "does not mean a declaration of war."
Despite Poroshenko initially proposing a 60-day martial law, a revised version of the decree limited this to 30 days across ten regions on the Russia-Ukraine border, and along the Black Sea coast.
It will be declared in these regions on the morning of November 28, and will last until December 27.
A bill passed by Ukraine's parliament in 2015, "About the Legal Regime of Martial Law," lists everything that could potentially come into effect in the next 30 days.
It is not currently clear how many of these restrictions will be implemented over the coming days, and some may not be implemented at all, but it will involve the country's military temporarily taking over local powers.
According to the current Ukrainian legislation, these are just some of the changes that could come into effect:
Restrictions on constitutional rights and freedoms of civilians
Introduction of a "labour duty," enforcing unemployed able-bodied civilians into employment, which may be within the military
Seizure of properties owned by the state, or "forcibly dispose" of communal and privately owned property "for the needs of the state."
Introduction of a curfew
Introduction of military checkpoints and restrictions of "the freedom of movement of citizens, foreigners and stateless persons, as well as the movement of vehicles."
Document checking of individuals, and conducting spot inspections
Bans on peaceful protests, rallies and mass events
Prohibition or restrictions on the mass media
Prohibition or restrictions on the transfer of information on social media networks
Has martial law been declared in the past?
This is the first time Ukraine has declared martial law since 1945. It was not declared during the flare-up in tensions and subsequent war in the country's east in 2014.
Many have questioned whether Poroshenko chose now to enact the martial law in a bid to postpone the upcoming presidential elections and increase his dwindling popularity.
However, Ukraine's parliament, the Verkhovna Rada, confirmed on Monday evening that presidential elections would go ahead in March 2019.
Despite this, critics maintain that martial law will affect Ukraine's democratic process, saying other resolutions should have been pursued.