Bottom half of Britain's biggest bronze statue unveiled
Comments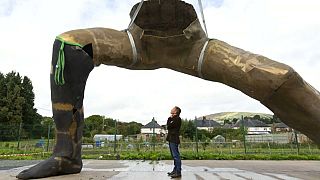 The legs of what will be the UK's largest bronze statue were unveiled on Monday.
The "Messenger" statue of a female actor will be 7 metres high once completed and is to be installed outside the Theatre Royal Plymouth next year.
The statue was designed by local sculptor Joseph Hillier as part of a wider £7.5 million regeneration project in the port city that was heavily bombed during World War Two. 
The legs were unveiled at a foundry in the Welsh village of Llanrhaeadr Ym Mochnant where the rest of the statue will be cast before its transfer south to Plymouth.
More than 200 bronze panels are being welded together to create the giant figure which will be the UK's largest bronze by volume.
It has been created using 3D scans taken from pictures of the actor who inspired Hillier in 2014.
"The sculpture celebrates the potential of creativity as a dynamic catalyst for change," Hillier said.