Watch again: British MPs hit out at PM Theresa May's Brexit deal
Comments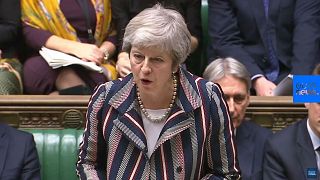 British MPs slammed Prime Minister Theresa May's Brexit agreement as she began the process of trying to get it through parliament.
May, speaking in the House of Commons on Monday, said if politicians didn't vote for the deal it would open up the country to more division and uncertainty.
"We can back this deal, deliver on the vote of the referendum and move on to building a brighter future of opportunity and prosperity for all our people," said May.
"Or this house can choose to reject this deal and go back to square one. It would open the door to more division and more uncertainty, with all the risks that will entail."
But opposition leader Jeremy Corbyn said it was a botched deal and that negotiations had never gone beyond square one.
"The silence from the cabinet is telling," he added. "They know these negotiations have failed and it would leave us worse off."
While MPs accepted that May was in a difficult position, few of them spoke in favour of the agreement struck with Brussels.
"I'm genuinely sorry to say this to the prime minister but there's a stark difference between stoic determination and sheer stubbornness and a failure to listen to this house or the people," said Labour MP Stephen Doughty.
"She's come here today with the same old script telling us that we have to vote for this piece of paper that will make us poorer, weaker, less influential, less well-off, less secure and she expects to get the consent of this house."
On Sunday, 27 other EU leaders approved the terms of the UK's exit from the bloc at a special summit.
Read: Brexit Guide — Where are we now?
British MPs are expected to debate and vote on May's Brexit deal on December 10-12.
Many in her ruling Conservative Party have publicly declared their intentions to vote against it. Northern Ireland's Democratic Unionist Party, which props up May's minority government, has also criticised the deal.
Meanwhile, opposition parties, including Labour, the Scottish National Party and the Liberal Democrats have also said they would oppose the deal.