Raw Politics: May sells Brexit deal, Ukraine-Russia and womens rights
Comments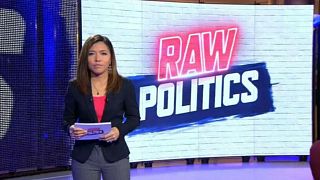 On Raw Politics this Monday:
May sells her Brexit deal
The EU 27 met on Sunday and endorsed the draft Brexit deal. Meanwhile, in London, UK Prime Minister Theresa May faced fresh questioning by parliament.
Ukranian-Russian relations hit low point
Relations between Ukraine and Russia have hit a low point after Russia seized three Ukranian vessels off Crimea. Ukraine's parliament voted to introduce martial law, while NATO has called for calm amid the increased tensions.
Thousands march to end violence against women
Hundreds of thousands of people took to the streets in a bid to end violence against women this weekend with President of the European Parliament Antonio Tajani drawing red lipstick on his face to highlight the issue.
Other topics discussed in this episode include an investigation revealing a lack of medical regulation with guests including British MEP Claire Moody and journalist Andrew Byrne.