Forget flowers, Russians tuck into food bouquets
Comments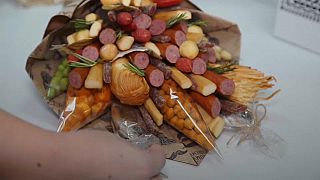 They say the way to a man's heart is through his stomach.
So what better gift to give this festive season than a bouquet of his favourite foodie treats.
Smoked sausage, crayfish, cheese and other delicacies are arranged in appetizing displays.
The unique gift is the brainchild of entrepreneur Olga Kirsanova from the Russian city of Chelyabinsk.
The idea started as a hobby. But a year after she started trading, Kirsanova moved out of her own kitchen into a new workspace and hired two assistants to cope with the volume of orders.
Kirsanova says the appeal lies in the surprise of a bouquet made of food.
"This is a novelty, it is tasty, it is beautiful, it is a bouquet that is useful," she says.
Crayfish, a popular delicacy in Russia is the most popular item for food bouquets; other common requested elements are smoked sausage, cheese, lemon and chilli.
The shelf life of such a bouquet is no more than 24 hours, Kirsanova purchases all products personally and not earlier than one day before the production of the bouquet, since everything must be as fresh as possible.
The cost of the bouquets varies between 1,000 and 5,000 roubles (13 and 66 Euros).