Big Brother Bologna? City set to test surveillance drones
Comments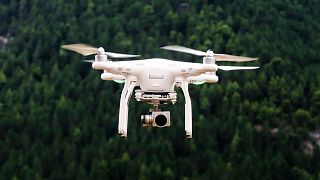 Is the dystopian nightmare of George Orwell's novel Nineteen Eighty-Four about to become a reality in Bologna? Or is the Italian city just making innovative use of the latest technology?
Authorities there will begin a six-month trial in January that will see up to five drones used to spot crime and manage public events.
"The system will be used for major events, for the safety of citizens, for construction abuses or environmental crimes, privacy is guaranteed by the laws of the state, so there is no risk," said Alberto Aitini, a Bologna city councillor.
The project, given the go-ahead by the Italian Civil Aviation Authority (ENAC), will see Bologna become the first city in the country to experiment with a multi-drone surveillance system.
The drone's camera can see 14 kilometres into the distance during the day and six kilometres by night.
"In Bologna, the peculiarity is to have a multi-drone system, that is more drones flying at the same time," said Riccardo Delise, a member of ENAC. "In this sense, it is a unique experimentation."
Bologna's city council will decide after six months whether to continue with the scheme.
Orwell's novel, published in 1949, envisaged a future of perpetual war and a society in which every citizen is under constant surveillance.