Taiwan says "no" to same-sex marriage
Comments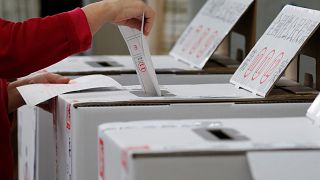 Copyright

Reuters/Tyrone Siu
7 million voters in Taiwan have rejected same-sex marriage in a series of referendums on Saturday.
The news will come as a major blow to LGBT activists throughout the region. The island had been seen as a trailblazer for gay rights in Asia.
Jennifer Lu from the marriage equality coalition spoke out against the results -
"Gay people are part of this society, we shouldn't be excluded from the state system. Every family has its purpose and value in its existence. Every person living in this world has their own unique purpose"
Seven million voters backed a definition of marriage as the union of one man and one woman.
Ruling party lawmakers had previously backed proposals to legalise same-sex marriage in 2016.
The results came after the resignation of Taiwanese President Tsai Ing-wen. Her pro-independence Democratic Progressive Party (DPP) suffered defeats in local elections.
The Beijing-friendly opposition KMT party made gains in the face of growing pressure from China.
But the authorities are expected to pass a special law for same-sex unions after the vote. The issue has divided the island nation with large campaigns and rallies on both sides of the debate./