Three imprisoned Saudi lawyers receive award
Comments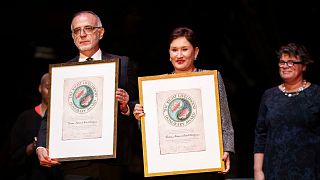 Seven men and women received the Right Livelihood Award in Stockholm, including three imprisoned Saudi activists.
The Saudi lawyers had asked peacefully for the observance of universal human rights and equality of women in Saudi society but were sentenced between 10 and 15 years in prison.
One of the Saudi wives says she was surprised with his jail term.
Wife of Mohammad al-Katani says, "I was shocked about the sentence that he received. I thought that it's not fair, especially for someone like my husband that he is imprisoned long-term."
Each person will receive around €290,000. The winners of the alternative Nobel Prize are honoured for fighting corruption, abuse of power and environmental destruction in their countries of origin.