Brussels: Banksy artworks seized in legal action
Comments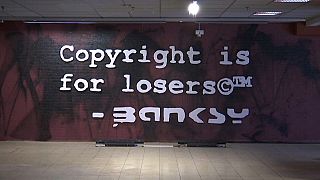 Worth around €15 million, an exhibition showcasing Banksy's artwork in Brussels has been seized by bailiffs.
The entire collection of 58 works was removed after a court dispute contesting the ownership of the items according to local media.
The "Banksy Unauthorized" exhibition, opened at the beginning of November without the agreement of the famous artist.
That's according to a lawyer who spoke to Associated French Press.
The items were collected by a former agent of the artist, who he broke up with in 2009, Steve Lazarides.
A company based in Germany, 'On Entertainment' had liaised with the managers of the exhibition space, Strokar Inside, claiming they had permission to show the works.
A spokesman for the company Lazinc founded by Lazarides in 2006, declined to comment, according to the Guardian.