Japan dominate Day 1 of Osaka Grand Slam with four golds out of four
Comments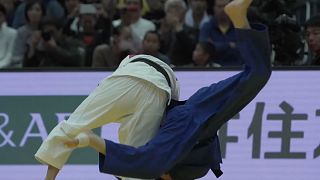 Hosts Japan were unstoppable at the Osaka Grand Slam as they claimed gold in all four weight categories on the first day of a thrilling tournament that sees judo return to its traditional home. 
Woman of the Day
Japan's dominant performance was led by their teenage World Champion, and our Woman of the Day, the incredible Uta Abe, who won her third Grand Slam title to remain undefeated since 2016.
Abe was on her usual explosive form - throwing big with what has become her trademark technique - sode tsurikomi goshi, a difficult throw using only the sleeve grips to lift your opponent up and over.
Her semi-final was a rematch of the World Final earlier this year, and the 18-year-old came out on top again in less than 10 seconds. No mean feat considering her opponent was former World Champion Ai Shishime. 
After defeating her teammate and Asian Games winner Natsumi Tsunoda in the -52kg final, Uta Abe has really sent a message out; that this is her category - and she is the one to beat.
"Actually I've lost against Tsunoda three times in the past, and this time I felt like I really needed to win against her in order to make the 2020 Tokyo Olympics. And so with this strong feeling and ambition I was just thinking and practising about how to win against Tsunoda," Uta Abe said in an interview
Man of the Day
It was a dominant display from World Number 1 Ryuju Nagayama of Japan, who was our Man of the Day. 
Nagayama is another big thrower and he stormed his way through the competition with his dynamic style of judo.
In the -60kg final, Nagayama came out with a clear game-plan and he executed it brilliantly, throwing Yago Abuladze of Russia every time his opponent took his favoured grip over the opposite shoulder. The Russian had used this grip to great effect throughout the day, but Nagayama exploited its weakness - attacking with ura-nage, and eventually scoring with his spectacular technique.
"So in the same weight category as me we have Naohisa Takato, who is senior to me. I didn't actually fight him today, so I still have to have a match against him. Until then I don't think I am the number 1. Next time I would like to meet him on the tatami and win against him," Ryuju Nagayama said in an interview.
Japan's Tonaki and Maruyama on top form
In the women's division, World Champion Funa Tonaki of Japan was also on form - she capitalised on Urantsetseg Munkhbat's failed sacrifice throw, swiftly transitioning into a hold down, and leaving no escape for Mongolia's 2013 World Champion in the -48kg final.
In the men's division, Hohhot Grand Prix winner Joshiro Maruyama of Japan faced current and double World Champion Hifumi Abe, the brother of Uta Abe, in another all-Japanese final. 
After an epic contest going into golden score the World number 14 stole the show as he outshone reigning world champion Abe, stunning him with a brilliant tomoe nage attack, getting the decisive score and clearly declaring his intentions on the -66kg category.
Maruyama was awarded his gold medal by Her Imperial Highness Princess Tomohito of Mikasa.
Move of the Day
Our Move of the Day was this near perfect uchi-mata from Toru Shishime of Japan in the men's -60kg category. Traditional Japanese judo, a fitting throw for a day of Japan, in Japan.