Robert Kubica to make F1 comeback in 2019
Comments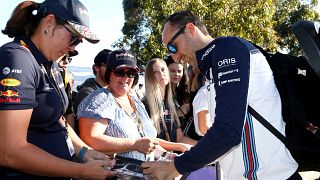 -
Robert Kubica will return to Formula One racing in 2019, eight years after a rallying accident that partially severed his right arm. The 33-year-old Polish driver will race for Williams, partnering with George Russell of Britain.
Although Kubica was able to avoid having his arm amputated after the 2011 crash, he was left with limited mobility in his right hand. The lingering injury made it difficult for him to turn a steering wheel – and many doubted whether a return to the sport's highest level was possible.
"I know what it took me to get here, and I know what it takes to be one of the top drivers in Formula One," Kubica told reporters on November 22. "So now the question is to work, to give me a bit of time, and to focus on what is the part that I enjoy more, which is being a race driver."
Kubica admits that he faces physical limitations as a result of the accident, and appears unable to fully grip the steering wheel with his right hand. Still, he has continued to impress in test runs and on team simulators over recent months.