Lethal force can be used at Mexico border, Trump says
Comments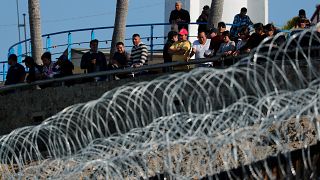 US President Donald Trump has authorised troops to use lethal force "if they have to" at the border with Mexico.
"If they have to they are going to use lethal force. I've given the OK — I hope they don't have to," he told reporters in Palm Beach, Florida.
Trump also warned that there could be a government shutdown next month over security on the border.
The president warned that the US could close the entire border for a period of time "if we find that it gets to a level where we are going to lose control or our people are going to start getting hurt."
His comments came as a caravan of refugees and migrants is travelling towards the US from Central America.
He has previously denounced the caravan as an "invasion" that threatens US national security.
His remarks on Thursday also came a day after a US Border Patrol agent was acquitted of involuntary manslaughter over the shooting and killing of a Mexican teenager through a border fence.
Lonnie Swartz, 43, was acquitted by a federal jury in Tucson, following two days of deliberations over the death of 16-year-old Jose Antonio Elena Rodriguez.
As the second trial over the 2012 killing, it marked another defeat for federal prosecutors.