French court: Posters showing woman tied to train tracks 'do not promote violence'
Comments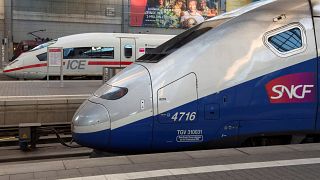 Copyright

REUTERS/Lukas Barth/File Photo
A French court has ruled that controversial ads showing a woman tied to train tracks "do not promote violence against women".
The posters, made to promote a new high-speed train line in southern France, show a woman tied to train tracks and the caption: "With the TGV, she would've suffered less".
The ads first went up in December 2017 in the southern town of Beziers after its mayor Robert Menard started a campaign for the train line.
Several feminist associations filed legal complaints against the ads and were criticised by France's equality minister.
But the court ruled on Tuesday that the posters "did not promote violence against women" and "do not constitute a type of harassment towards women."
The posters appeared a few months after the death of a woman who died tied to TGV tracks by her husband and hit by a train in northern France.
Some, including French Senator Laurence Rossignol, highlighted parallels between the TGV posters and the tragic death story.
"Her name was Emilie, she was 34 years-old and had four children. In June 2017, her husband murdered her by tying her to TGV tracks. The despicable Robert Menard killed her a second time. I ask for the immediate removal + prosecutions."
But Menard defended his campaign, saying this same image had been used in many old films and cartoons before.