Baby giraffe melts hearts at Berlin zoo
Comments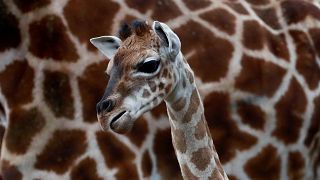 -
A baby giraffe named Ella has warmed the hearts of visitors at Berlin's Tierpark zoo, after being born there earlier this month.
Ella belongs to the Rothschild's subspecies, which has seen its numbers cut by 40% over the past 30 years, and is now found in the wild only in Kenya and Uganda.
Conservationists in Germany are hoping to create a reserve population to counter the shrinking numbers in the wild.
Ella is part of an eight-giraffe herd at Tierpack. She doesn't like the cold but has shown progress since her birth — skipping, frolicking and connecting with her mother.
"She made it to the exercise hall with the other giraffes and now she has come outside for the first time where the visitors can see her. And there she is, of course, running around and practising running away," said zoo curator Florian Sicks.
"This running away is very important for small giraffes where in the wild 50% of the animals end up as prey and that is what she is practising at the moment," he added.
The Rothschild's giraffe can grow up to six metres tall and in the wild can live up to 20 years.