Watch: Trump grants pardons to Thanksgiving turkeys
Comments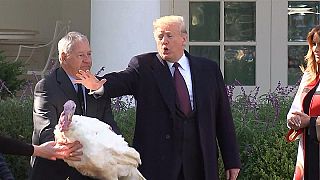 -
US President Donald Trump has granted presidential pardons to two turkeys, saving them from the fate of a Thanksgiving feast. 
The turkeys, named Peas and Carrots, were brought in from a South Dakota farm to the White House's Rose Garden for the annual presidential turkey pardon. 
In an online poll, people voted for Peas to participate in the National Thanksgiving Turkey Pardoning ceremony, which dates back to 1989. 
He was given the title of "2018 National Thanksgiving Turkey".
While announcing the result of the poll, Trump took jabs at the Democrats. 
"The winner of this vote was decided by a fair and open election conducted on the White House website. This was a fair election," he said.
"Unfortunately, Carrots refused to concede and demanded a recount and we're still fighting with Carrots. And I will tell you we've come to a conclusion: Carrots I'm sorry to tell you the result did not change. It's too bad for Carrots," he added.
But despite Peas winning, both turkeys will spend the rest of their lives at the "Gobblers Rest" exhibit in Blacksburg, Virginia. 
They will be cared for by students and vets from Virginia Tech's Department of Animal and Poultry Sciences in the College of Agriculture and Life Sciences.