Fugitive PM faces extradition request as Hungary confirms asylum
Comments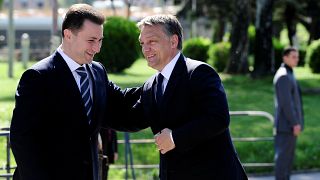 The Former Yugoslav Republic of Macedonia have issued an extradition order for former Prime Minister Nikola Gruevski, who they say has fled the country to "avoid justice".
It comes hours after the VMRO DPMNE party leader said Hungary had granted him asylum, citing "political persecution" in FYROM as the reason for his request.
Refuting his claim, the Macedonian government said in a statement Wednesday: "There has never been any political persecution and no life threats have been evidenced against Nikola Gruevski, nor has any governmental institution ever made any threats against his life.
"Therefore, we find that the only goal Gruevski has is to avoid justice."
The extradition request was made as Gruevski faces several investigations against him, the statement added.
The nationalist politician prompted a nationwide manhunt last week when he failed to turn up to begin a two-year prison sentence in FYROM after he was convicted on corruption-related charges earlier this year.
Within days, he revealed on his Facebook page that he had arrived in Budapest and filed an asylum claim, citing "numerous threats on my life".
The ensuing political drama has caused controversy in Hungary and across Europe, where asylum seekers are typically required to follow due process to be considered.
EU Commissioner Johannes Hahn said a "sound explanation" was needed by Hungary to justify the move.
The procedure was done with "extraordinary speed" and in a "very, very unusual manner," political analyst Andras Racz told Euronews.
Speaking on Good Morning Europe on Wednesday, he said: "Gruevski himself was basically smuggled through the Balkans by the Hungarian diplomatic service.
"The whole process is very, very unusual."
Concerning Gruevski's claims of political persecution, he said there was no evidence which supported the politician's claims that his life at home is in danger.
"We haven't seen anything publicly - a source - for that," he added.