US retailer releases Trump-inspired 'Build the Wall' toy ahead of Christmas
Comments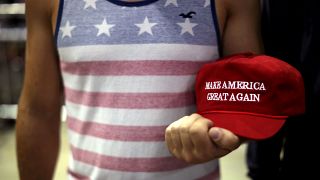 A conservative American retailer has released a "Build the Wall" toy inspired by US President Donald Trump, with which children can play at stemming the flow of illegal migration.
"A mob of 10,000 Central American migrants is marching through Mexico and heading toward El Paso, Texas. Mexican border agents attempted to stop them at the Mexican border, but to no avail. The wall must be built. The wall will keep America safe and strong," retailer Keep and Bear writes in its description of the product, which it is promoting ahead of Christmas. 
Trump has been calling for neighbouring Mexico to build the wall and pay for it since the 2016 presidential election to stem the flow of illegal migration over the US-Mexico border.
The 101-piece toy, in the Make America Great Again (MAGA) collection, encourages children to build their own wall. It is being sold for $29.95 USD (€26).
"We understand why they want to flee Honduras and live and work in America. After all, we are the greatest nation on Earth.
"In the interest of national security, however, we cannot allow just anyone and everyone to cross our borders. While there are good people attempting to enter our nation, there are also gangs, criminals, and terrorists. Everyone who wants to enter our country must enter legally for the safety of all," the product description says. 
"The wall must be built. The wall will keep America safe and strong. Only then will we be able to help those in need," it adds. 
Caravan
There are currently hundreds of migrants, mostly Hondurans, making their way on foot to the US via Mexico. 
They have walked more than 4,000 kilometres and the first batch have reached the Mexican city of Tijuana, where some locals have shown hostility towards the new arrivals, shouting statements that appear out of a Trump textbook, such as "Mexico First."
Games against the wall
Cards Against Humanity, described as a party game for horrible people, is running a campaign to save America and raised funds to buy a portion of land on the US-Mexico border to prevent the wall from being built.