Exploding hot air balloon injures revellers at Myanmar festival
Comments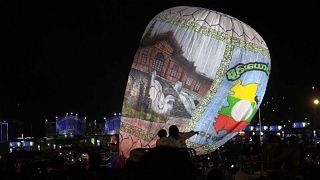 Multiple people were injured when a hot air balloon loaded with fireworks exploded onto a crowd of revellers at an annual festival in Taunggyi, Myanmar.
In total, nine people were injured, with four taken to hospital, according to local media reports. 
One person was also reported to have died in the incident, according to local media reports cited by AP news agency. Euronews was unable to independently confirm this. 
The festival attracts tens of thousands of people to the small mountain town to watch the hot air balloon display each year. 
While the display is an event many enjoy, accidents are reported there almost every year.
History teacher Lionel Ahbo said the festival stems from a story of the Buddha, who believed that if he sent his hair up in a balloon to the heavens — and if it stayed up — he would become a true Buddha.
Since then, monks have celebrated his enlightenment by lighting lanterns, before it became a wider cultural event.
The firecrackers used aim to take the lantern higher, to ensure that it reaches Heaven.
More than 400 fire balloons are taking flight from Taunggyi during this year's festival.
It runs until November 22, when the full moon arrives.